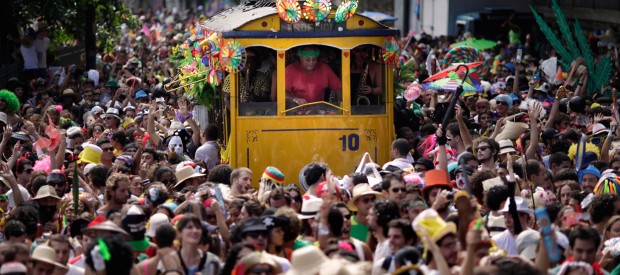 Santa Teresa is in anticipation of carnaval. Just as is the rest of Rio — actually as is all of Brazil. But here in Santa Teresa — a quaint little neighborhood on top of a steep hill where mansions stand proudly wall-to-wall bearing witness to glorious old times, and where small shops, cafés, and restaurants abound, and where people are clustering in bars to watch football and soap operas — the anticipation of carnival feels more intense than in the elegant neighborhoods of Copacabana and Ipanema with their anonymous apartment buildings. The energy here on top of the hill high above the sprawling city feels different from anywhere else.
The older lady with the tiny shop next to the tram stop at Largo Guimarães— the main square of Santa Teresa — has added carnival costumes and accessories to her usual stock of t-shirts, summer hats, and other necessities for the tourists who get off the tram next to her place and find themselves in need of something important that they forgot. The flimsy plastic mannequin in front of her door is draped in a bright-orange feather boa. It's what draws me into her store. For lack of much needed Portuguese language skills, I point at the boa. She jumps up from her stool and takes it off the mannequin, urges me to try it on and then, with the consent of her daughters, admires me with a stream of Portuguese. When I pay for it — 35 Brazilian real — she gestures me to wait and pulls out a box from underneath her folding table and hands me a paper mask with feathers: 'a present,' she smiles.
Touched by her kindness, I walk happily back home all the time remembering my tour guide's words from earlier today, urging me to get some kind of costume to join the famous bloco das carmelitas of Santa Teresa early in the morning. The blocos and their bandas — the street bands that get the crowds going during carnival — represent what's left of the quintessential Brazilian carnival. It's the one part of Brazil's famous carnival that hasn't been completely commercialized yet. However, 25 years ago there were only a few street celebrations in Rio with up to a thousand revelers. These days there are an estimated 500 blocos, some of them with as many as 200,000 partyers.
It's where regular people gather and celebrate in the neighborhoods, dancing in costumes to the live music of the bandas without having to pay exuberant ticket prices (as for example is the case with the world-famous parades in the Sambadrome). Santa Teresa, as one of the few remaining neighborhoods with an authentic feel to it, is considered to have the best bloco — and therefore carnival — in all Rio. People used to come up to the Santa Teresa bloco das carmelitas by tram, the only reliable means of transportation that could safely make it up and down the steep hill from Lapa down in the lower part of Rio de Janeiro. It crosses the 270 meter high aqueduct (not for people with vertigo) and on the day of the carnival, the wagons were so crowded that the carnevalistas in costumes seemed to spill out, clinging on to the safety bars. There are famous pictures documenting the surreal scene of all sorts of people in colorful masks and costumes on these dizzying rides. The artist across the street from my place had a framed photograph depicting such a scene, but the second time I returned to look at the picture it was gone, sold to another tourist who probably understood the rare value of the photograph. Because these days the scene can no longer be seen; the tram is no longer allowed to operate on the day of the Santa Teresa carnival for security reasons.
I was surprised to learn that the Santa Teresa bloco didn't start at nighttime, but that it started early in the morning at 7am. 'Get there half an hour earlier,' my tour guide had urged me, 'if you want to see the real thing. By eight o'clock everybody is already wasted and you can go home.'
Determined not to miss such an opportunity, I went home early the night before, prepared for the next day's excitement with my boa and mask, and decided to go to bed early. Just as I was taking one last glance out of my kitchen window to take in the breathtaking view of Sugar Loaf Mountain in the distance and Guanabara Bay, I couldn't help but notice some activity on the lower floor of the building across the street. The fenced door of the illuminated living room of a spacious apartment stood open, and some figures were moving about, waving arms, dancing and shaking hips. I stood and watched for a while until I realized that it was two teenagers practicing samba steps in front of a television. I could faintly hear the music. Every couple of minutes the girl turned some buttons on the television set, apparently to change the video so that a different samba performance could be played. Both the boy and the girl seemed to be quite serious about their practicing, intensely following what they saw on the screen. Then they would briefly talk and point at the screen before they resumed their exercises.
Fascinated by so much enthusiasm, I went to bed. At dawn's first light I was woken up by some late home comers with hoarse voices, laughing and shouting and singing some kind of samba tune. Apparently there had been a carnival event the night before and they must have had a good time. No one in the neighborhood seemed to mind the disturbance at this early hour. I got up to get ready for the early morning bloco, but quickly realized that I was already late. By 6:30 people started to flock past my building towards the Largo where the action was supposed to begin half an hour later. I wondered whether the late night revelers were among them, and whether they could have had time for a shower and a change of costume before heading out again. Ever since my tour guide had told me that during the two weeks of celebrating carnival she got no more than a total of ten hours sleep nothing surprises me anymore.
So with my new bright-orange boa around my neck, I was finally heading out.